See what our customers say
We use the independent customer rating service, eKomi, to collect and evaluate feedback from our happy clients. Click on the eKomi widget or hover your cursor over the widget to see what they have to say about us.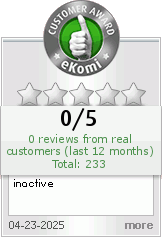 A close partnership with VMware
Ontrack has been a VMware partner since 2008 and in that time has successfully conducted over 1,000 specialized VMware data recoveries. We partner directly with VMware support services to ensure we offer you the latest technology available to recover your data.
We can help you with
Corrupted or re-formatted VMware VMFS volumes
Deleted or corrupt snapshots
Deleted VMDKs
RAID or other hardware failures
Accidental data deletion
Deleted virtual Machines
Please provide details of your data loss
Emergency service is available 24 hours a day, 7 days a week by calling 800.872.2599.
Your data recovery specialist will call you within 30 minutes (7AM-6PM CST Monday-Friday). You will receive a service order number instantly after submitting. After business hours, you will be contacted the following business morning
The information contained in the form above is used for the free consultation to assess your data loss and determine solutions and pricing options. Ontrack does not supply customer information to other third party marketers.