Data Recovery Takes Center Stage, Finally!
Monday, January 28, 2013 by Krzysztof Jendrzok
This year, Kroll Ontrack was awarded the Visionary Award for outstanding data recovery services for all storage devices at Storage Visions 2013. We've been attending Storage Visions for quite a few years now and I've often likened it to that little gem of a conference in Las Vegas before the monster known as CES (Consumer Electronics Show) hits the town. What I've liked about Storage Visions over the years is that it has always given us the opportunity to have more personal interactions with customers, partners and even manufacturers. The show has stayed true to its roots by the continued exploration of convergent needs of digital storage. If you're looking for a hangout to debate HDDs vs SSDs, this is the place to duke it out. Oh, and there's a little piece of technology called the Cloud that I keep hearing more and more about too…
Something else was prominently different about this year in that there was clearly more focus on the protection and retention of data. In fact, Kroll Ontrack's Allison Boerum participated in one of the opening sessions of the day titled, "Safe at Last: Protecting, Storing and Recovering Personal and Commercial Content." At one point during the Q and A session, Mr Steve Wozniak himself asked the panel a question about recovering data from the Cloud. In previous years representing Kroll Ontrack and attempting to have a data recovery conversation often led to confusion, ignorance or downright arrogance. After all, who was I to talk to about a data loss event that hadn't happened yet? It's like telling someone that their full-proof car will at some point have an accident and precautions need to be made. Unless auto-insurance was mandatory, we'd all be guilty of thinking that nothing could possibly go wrong. This holds true particularly in the technology world where products being rolled out and the resources hired to run them are tasked with avoiding data loss. Guess what though? It still happens, and it was very clear that an epiphany of sorts had hit the crowd at Storage Visions too.
At the Kroll Ontrack booth, we were visited by all kinds of techies and non-techies that seemed to have some sort of data loss event they wanted to share with us. At previous shows, explaining what data recovery was (no, it's not backups) seemed to be quite an ordeal but that has clearly changed over the years. The term 'data recovery' vastly resonates with an audience that at one point hardly recognized it could exist, or for that matter seem even possible. One of the displays at our booth that garnered maximum attention was a burnt iPad. Sure, it's eye catching to find a company displaying a charred iPad, however I couldn't help but notice the look of utter astonishment when we talked about the background story of that iPad and how we recovered 100% of the data from it.
While winning the award was a proud moment for everyone at the company, it was also a gentle reminder that data recovery services are still a crucial component to businesses and consumers everywhere. Whether you call it Business Continuity, Disaster Recovery or anything else for that matter, Storage Visions 2013 clearly proves that data recovery has taken center stage in the many conversations around digital storage. I am already looking forward to seeing how much this evolves by Storage Visions 2014!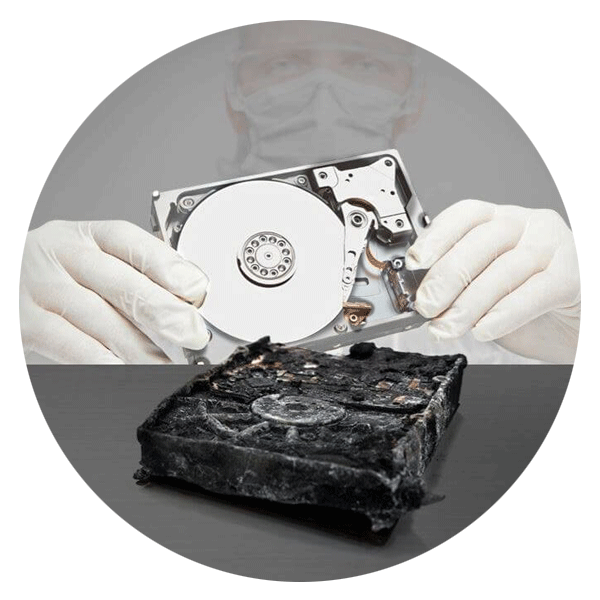 Call for Immediate Assistance!
---