We understand losing your data can be a frustrating and anxious event that is out of your control. At Ontrack, we want you to have control over your data recovery process.
We offer our clients several service options to meet their needs, a list of recoverable files before you pay for a full recovery and access to a secure website where you can track your data 24-7 through the recovery process.
855.652.2387
View your job status and reports any time you want.
You can log into the Data Recovery Service Cloud portal 24x7x365 to see the status of your recovery and access your Verifile reports.

The portal allows access to all of the information necessary to determine if important files can be recovered before committing to recovery fees and proceeding with an actual recovery.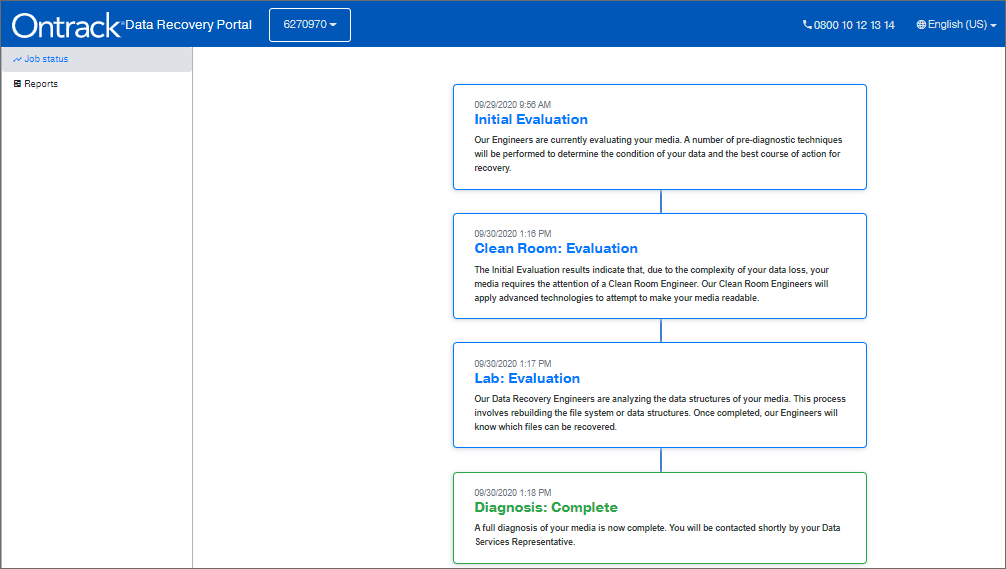 Check on your job any time, day or night.

Easy to use management portal with everything you need to know about your recovery.
Complete listing of recoverable files.
Contact information for your support specialist at your fingertips.
Data recovery in Canada
Whatever the cause of your data loss, and whatever device you're working with, we're ready and waiting to help.
With over 35 years of experience behind us, we've supported over 500,000 customers to get their data back - including everyone from individuals through to fortune 500 companies. And our success rate is 90%.
Supported by the world's biggest R&D team, we can retrieve data from your hard drive, SSD, server, desktop, mobile, cloud storage, laptop, or any other device. So, whether you've lost data due to water, fire, or heat damage, your files have been corrupted by a virus or malware, or your hard drive has failed, we're confident we can get your data back.
And, because we understand how important it is for you to be fully in control of your data recovery, we have a dedicated Customer Portal so you can stay up to date, 24/7.
1.
Begin your free data recovery evaluation by completing the form below.

3.
View your Ontrack Verifile reports.
Start your data recovery now with a free consultation.
Contact our team of experts. Ontrack accommodates everyone – from the largest government or enterprise organization to an individual who may have lost their digital photos and everyone in between.