The challenges in data recovery today
09 August 2018 by Michael Nuncic
The majority of people think the development of technology over the years has helped to shape the world we now live in. Today's computer/phone/tablet allow us to work wherever we want, talk to whoever we want and research whatever we want. This all sounds great, but with these new developments has come rising challenges for those that work in the data recovery sector.
In this article, we will focus on the main challenges faced today by data recovery experts. The main challenges being:
Due to the widespread use of cheap network attached storage devices (NAS) by both consumers and corporations, former high-end-features such as deduplication and thin-provisioning have become standard and widely used.
Drives and the storage space has increased drastically
Many customers have little or no idea of what they are doing technically when they use certain features on their storage or server systems. This can result in the customer creating an additional data layer on top of the normal data structure, making recovery very complex.
Extra data layers
Some manufacturers have created an additional data layer on top of their normal operating and file systems. These products – mostly NAS computer or high-end-enterprise products – create one big data lake and the software itself decides where to store each part of a file.
However, when something goes wrong the logic, in order for the data recovery experts to have any hope of recovering the data, they must first rebuild the logic to get to the old file system.
Cheap NAS systems
Today, even the cheap NAS systems available to buy have formerly high-end features e.g. thin provisioning and deduplication. Many customers will just buy the system that has the most features available to them, not understanding the complexity behind it. If anything goes wrong with a system that has these high-end features, data recovery experts have to cope with highly complicated data layers.
Customer mistakes
Customer mistakes are higher than ever, which makes successful data recovery harder than ever before. A good example is the Apple Fusion Drive problem. It has not so much been a problem with an Apple hardware device, but more an Apple client problem. Apple introduced a hybrid hard disk drive solution called Fusion drive, which is implemented in several of its computer products a couple of years ago. Technology-wise the Fusion Drive actually consists of two separate hard drives: one SSD and one normal HDD. In order to be able to successfully recover any data that has been lost from a Fusion Drive, both the SSD and HDD are needed. Many customers think they only need to ship the HDD to a data recovery company, which is not the case as both disks work together.
Find more information about Ontrack Data Recovery service and product offerings here: https://www.ontrack.com/hp/
Picture copyright: Ontrack Data Recovery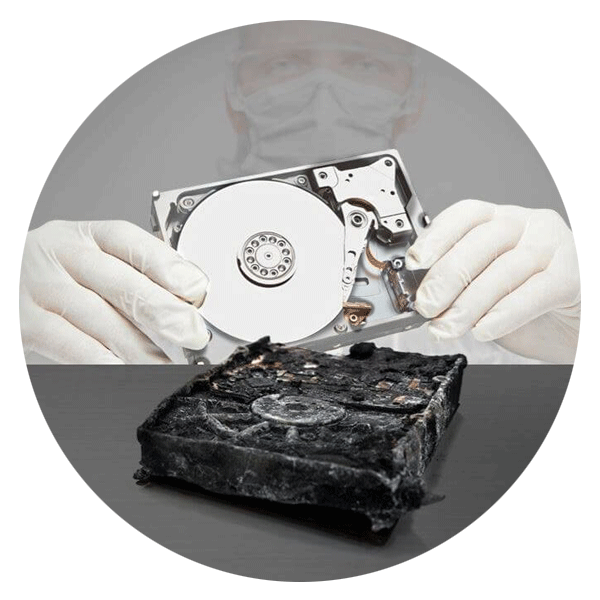 Call for Immediate Assistance!