We are the database recovery experts. We can recover databases from any file or application, even if the hardware has failed or there is software corruption.
Whether the cause of the data loss is a physical data storage device failure, or logical damage to the internal database, we can bypass the problem and get your data back.
Recoverable database types
Our database recovery services are trusted by thousands of IT professionals and technology users with inaccessible or lost database files.
If you don't see your file or database type listed, don't worry, with the largest research and development team of any data recovery provider, we can recover your data from any application, file or data loss situation.
| | |
| --- | --- |
| FileMaker® | Interbase® |
| Lotus® Notes | Microsoft® Exchange |
| Microsoft® SharePoint® | Microsoft® SQL |
| Oracle® | Paradox® |
| Sybase® | Visual FoxPro DBF |
| Other | |
Database recovery process
A successful recovery of these types of files requires a verification of the storage device or system and the file system that contains the database.
| | |
| --- | --- |
| Data recovery steps | Description |
| Stage 1 | Target LUN, iSCSI* LUN identification and low level DAS/RAID verification at the storage block level. |
| Stage 2 | Volume file system indices are checked for metadata-to-data stream integrity.** |
| Stage 3 | Database file integrity is checked. |
| Stage 4 | Database listing of all recoverable tables and rows is completed. |
*iSCSI LUNs are reliant upon the SAN's internal file system to manage the data. Data loss within this type of logical storage may require access to the SAN's volume where the iSCSI files are stored.
**Target volumes that reside within virtual disk files are dependent upon the hypervisor's datastore file system to manage the data. Data loss at the hypervisor volume level or within the guest's virtual disk file may require additional engineering effort to complete the evaluation.
Trust the experts
Ontrack engineering teams have certified developer status with Apple, Microsoft, Sun and VMware to provide the best recovery solution possible for your critical database applications.
In order to prevent further data loss, consult with a data recovery specialist before attempting a database recovery using software. Our experienced server and database recovery specialists will assess your data loss case and walk you through the best steps to take to prevent further damage.
+852 5808 7353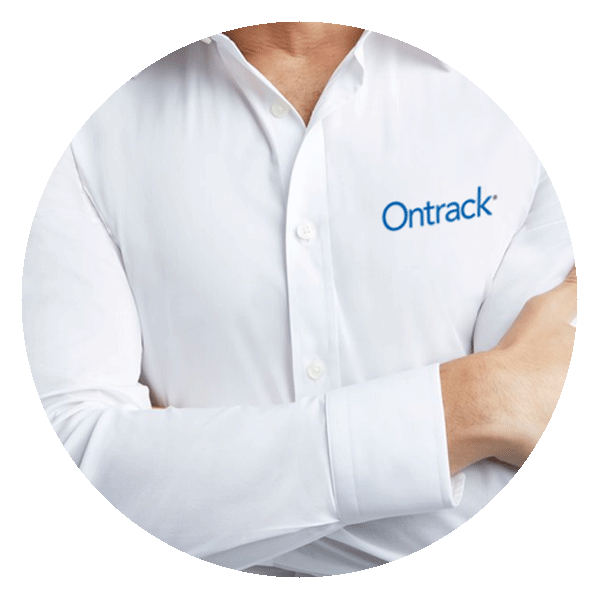 Emergency database recovery
If the situation is dire and you need to recover you data ASAP, our remote data recovery service can recover your lost database quickly and securely.
Our remote recovery service restores the lost and damaged data onto a new database server that is set up on the client's site using our proprietary software and a secure internet connection. This solution is quick, secure and cost effective for database recovery.