To help those who are flood affected and facing the possibility of losing valued data, Ontrack Data Recovery provides important tips on how to ensure a successful data recovery.
We can help recover your data!
When disaster strikes, your immediate thoughts focus on the safety of your family, friends, and community. When you discover that your computers and technology have been compromised - Ontrack Australia has got your back!
With over 35 years of experience, there is nothing that Ontrack engineers haven't seen before. From hard drives to tablets to complete data centres, we have recovered data in the most grueling of situations.
Here are a few key tips when you have water-logged devices:
Don't turn on the device. Testing to see if a damaged device still works can exacerbate the damage, and even endanger your life.
No sudden movements. Shaking, dissembling or even attempting to clean the device may result in further damage.
Don't try to dry your equipment excessively. Drying out your device after water damage starts the corrosion of the media, so avoid hair dryers, putting the device in rice or any other home remedies which may increase the risk of data loss. Instead, just pat the device with a towel to remove any excess water (so it's not dripping) and wrap the device securely for transit.
Don't wait. Humidity in disks causes corrosion that will only get worse the longer you wait, so the chances of recovering data are greater the faster you react. Send us your disk as soon as possible, or get in contact to arrange free collection from your business or home.
And lastly: Don't give up. Our experts here at Ontrack with the help of the latest technology and laboratories have a very high success rate in recovering data.
Contact your local Ontrack Data Recovery specialists.
Free evaluations: if we can't recover, you don't pay.
Complete transparency of recovery process, files to be recovered and fees.
World class technology to recover your data
Free shipping to and from Ontrack facilities.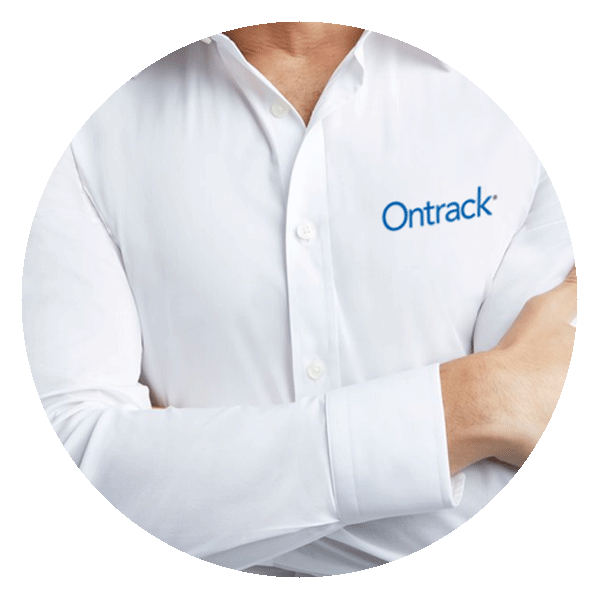 The Ontrack data recovery process
We'll ensure that you are informed every step of the way so that you have complete peace of mind. You have our 100% support from initial consultation to job completion.
Start your data recovery now with a free consultation.
Contact our team of experts. Ontrack accommodates everyone – from the largest government or enterprise organisation to an individual who may have lost their digital photos and everyone in between.