When disaster strikes, trust Ontrack to help you recover lost data.
Many possessions can be replaced, but your data is irreplaceable. Flood, fire, tornado or other natural disasters can damage your data, but we can get it back. Your data recovery is our top priority.
We can help recover your data!
When disaster strikes, your immediate thoughts focus on the safety of your family, friends, and community. When you discover that your computers and technology have been compromised - Ontrack has got your back!
With over 35 years of experience, there is nothing that Ontrack engineers haven't seen before. From hard drives to tablets to complete data centers, we have recovered data in the most grueling of situations.
Here are a few key tips when you have water-logged devices:
Never assume that data is unrecoverable, no matter what it has been through
Never attempt to plug in, charge or turn on water-damaged devices
Do not shake, disassemble or attempt to clean any hard drive or server that has been damaged
Never attempt to dry water-damaged media by opening it or exposing it to heat, such as from a hairdryer
Do not attempt to operate visibly-damaged devices
For mission-critical situations, DO NOT DRY the media. Contact a data recovery professional before any attempts are made to reconfigure, reinstall or reformat
To read more about tips on data recovery due to a hurricane, visit our
blog
or watch this video!
Wondering what to do next?
The first step is to contact your local Ontrack Data Recovery specialists.
Free evaluations – if we can't recover, you don't pay.
Complete transparency of recovery process, files to be recovered and fees.
Expert engineers that have compiled a 90% success rate when Ontrack is used.
Free shipping to and from Ontrack facilities.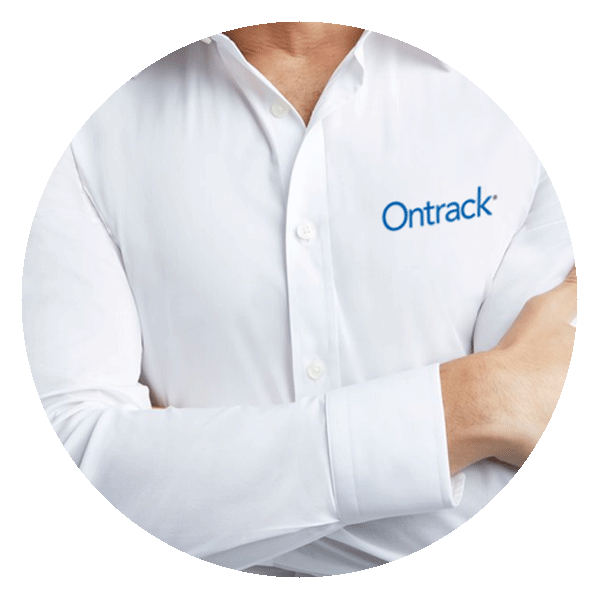 The data recovery process.
From initial consultation to ongoing support, more businesses and consumers choose Ontrack Data Recovery solutions and software to handle data loss situation – from simple to the most complex and catastrophic.