Putting you in control of your data recovery
Losing your data can be extremely worrying, especially when it feels like the situation is totally out of your control.
So, when you trust OnTrack to recover your data, you'll have access to a secure website where you can monitor your data recovery 24/7. We'll also provide you with a list of recoverable files before we start work, so you know exactly what you're paying for.
855.558.3856
View your job status and reports any time you want.
You can log into the Data Recovery Service Cloud portal 24x7x365 to see the status of your recovery and access your Verifile reports.

The portal allows access to all of the information necessary to determine if important files can be recovered before committing to recovery fees and proceeding with an actual recovery.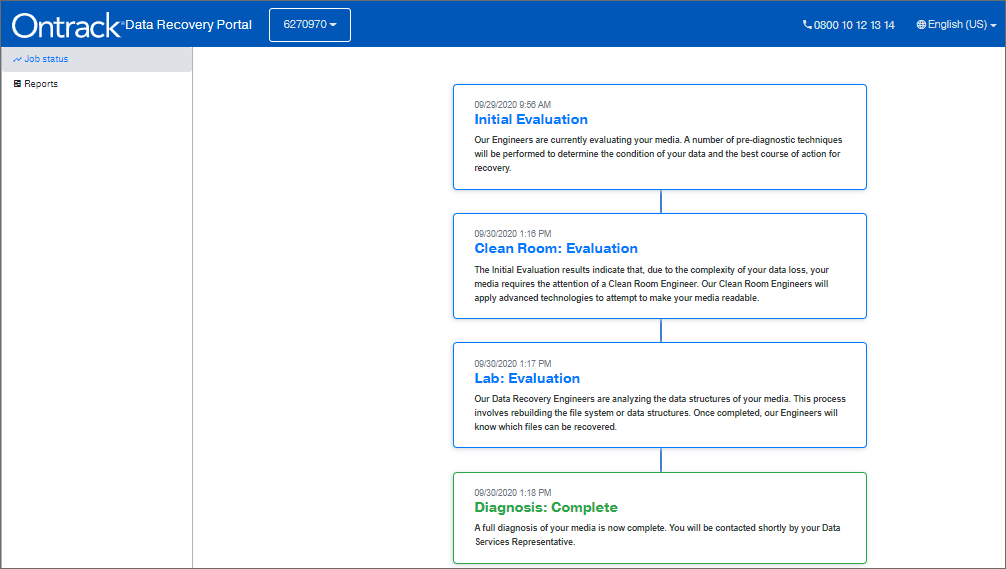 Check on your job any time, day or night.

Easy to use management portal with everything you need to know about your recovery.
Complete listing of recoverable files.
Contact information for your support specialist at your fingertips.
1.
Begin your free data recovery evaluation by completing the form below.

3.
View your Ontrack Verifile reports.
Why Ontrack for data recovery?
As leading US data recovery experts and backed by the largest R&D team in the world, our skilled and experienced team have the knowledge, experience, and tools to recover your data effectively, no matter how complex the case is.
Whether you need to retrieve data from your phone, hard drive, laptop, desktop, SSD, or any other device, we can help. From our state-of-the-art data recovery labs, we have carried out over 500,000 successful data recoveries…and counting. Because we understand that data loss can happen at any time, our engineers work 24/7.
And, with our dedicated Customer Portal, we'll make sure you're in control of the data recovery process from start to finish. Get in touch for your free consultation and to find out more about how we put you in control of the data recovery process.
Start your data recovery now with a free consultation.
Contact our team of experts. Ontrack accommodates everyone – from the largest government or enterprise organization to an individual who may have lost their digital photos and everyone in between.