Damaged tapes? Missing data? Tape media unsupported by your current storage infrastructure? We can help!
No tape recovery is too big. Let our experts save you time recovering data from tape so you can do more important tasks.
Tape recovery service
Whether you have lost your tape data by corruption, physical damage or software errors, we are here to help. We recover tape data in all types and formats and from all the different vendors. We get your legacy data accessible again.
Ontrack has unmatched expertise to solve the most complex data loss challenges. With 600.000+ recoveries and more than 35 years of experience, we are the world leaders in data recovery.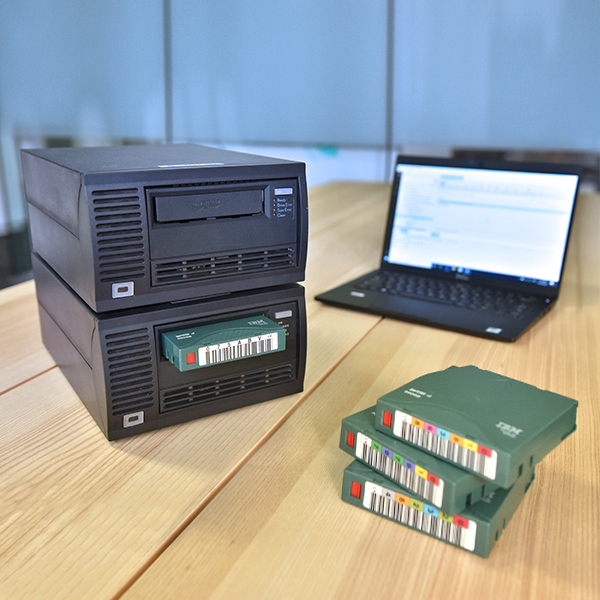 We recover from all backup tape media...

| | | |
| --- | --- | --- |
| LTO | DLT, SuperDLT (sDLT), DLT s4 | 4 mm DDS, DAT |
| SLR | 1/2" Open Reel | AIT, S-AIT |
| QIC | 8 mm Tape Cartridges - Mammoth, M2, VXA | And more... |
… and backup software formats
| | | | |
| --- | --- | --- | --- |
| Veeam | Veritas / Symantec NetBackup™ | IBM® TSM Tivoli Storage Manager | CommVault® |
| Veritas/Symantec BackupExec™ | Veritas/Symantec EnterpriseVault | Legato Networker | HP Data Protector |
| ARCserve® | Microsoft® Backup | Catalogic® DPX™ | Retrospect® |
| TapeWare | UltraBac | AVAMAR / EMC | Microsoft Tape Format (MTF) |
| Linear Tape File System (LTFS) | Linux TAR | And more... | |
… and different tape brands
| | | |
| --- | --- | --- |
| HP | Sony | Maxwell |
| Fujifilm | IBM | Tandberg |
| Quantum | Imation | TDK |
| Exabyte | And more... | |
Common causes of tape failure and data loss
Even though tape has great longevity for data storage, a lot can happen to make the data on them inaccessible. Our engineering team has seen it all.
Corruption: operational error, expired tapes, mishandling of the tape, or accidental overwrites caused by inserting or partially formatting the wrong tape.
Physical Damage: broken tapes, dirty drives, and damage caused by fire, flood, or other natural disasters.
Ransomware or Malware: (back-up) tapes erased or infected by the malware or ransomware.
Software Upgrades: inability for data on tape to be read by new applications or servers.
Some examples of successful recoveries include:
Quick-erased or partially overwritten data from LTO (Ultrium) tape media
Overwritten tapes (including DLT)

Snapped or burnt tapes



Tapes damaged by chemicals and smoke
Software problems or backup failures
Tapes immersed in flood water and mud
Intentional or accidental physical damage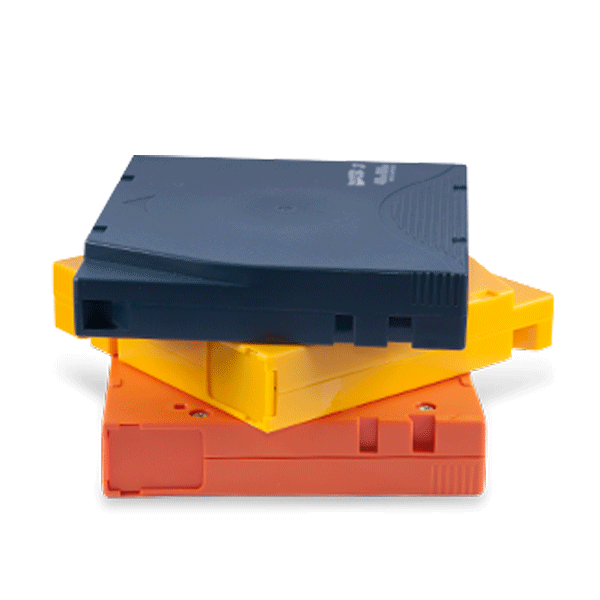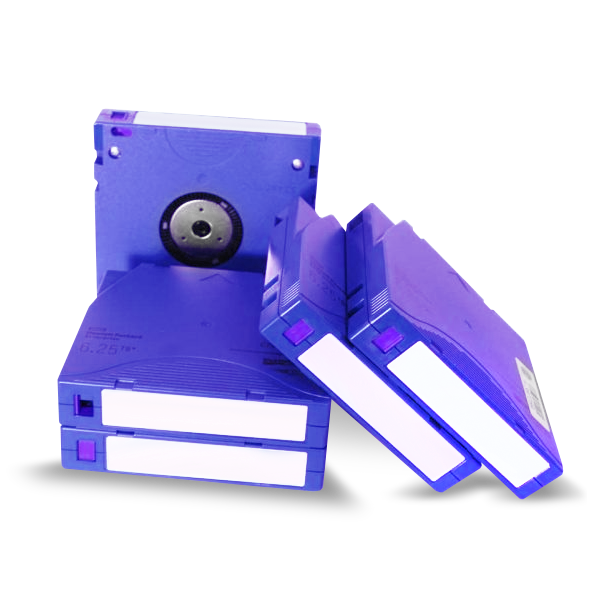 A proven process for tape recovery
Our Ontrack Data Recovery R&D team has been building their knowledge of tape recovery and resources for over 25 years. Our process below has proven successful.
Tape recoveries are performed in dust-free cleanroom environments
Tapes and tape drives are carefully dismounted, examined, and processed
Proprietary tools are used to read and recover around any physically damaged areas
We are able to quickly image failing tapes to ensure the most complete data recovery possible
Warning: Attempting to recover tape data on your own, or through an inexperienced data recovery provider, may lead to further damage. Select a data recovery provider with the resources, expertise and experience you can trust.
Our Tape Recovery Process
Join over a half million people and businesses who have trusted Ontrack to recover their data.
icon
Consult
Complimentary Consultation
With 24/7/365 phone support, our tape data recovery experts will assess your needs and discuss options.
icon
Evaluate
Proof of Concept
Sample tape restoration is provided to validate service expectations.
Tape Processing
The client approves the project and tapes are processed according to client requirements.
icon
Return
Project Completion
Data is securely returned via FTP or on encrypted media.
Why Ontrack?
Managing archived data is critical to reducing risk and cost in your business.
By working with Ontrack, you'll have peace of mind that you can access what you want, when you want it while keeping your archive costs as low as possible.
By trusting us to help manage your legacy data, you will not only be able to quickly react to requests, and better manage what data you keep and where you store it, but also reduce storage and maintenance costs.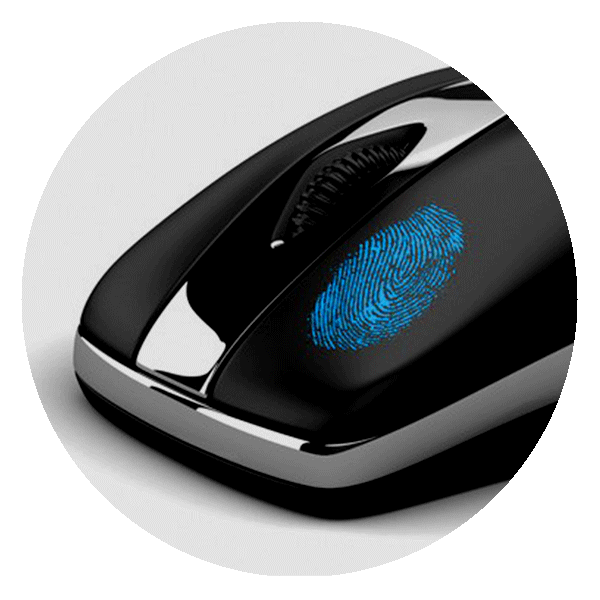 Forensic Tape Recovery
Do you have an urgent restore request for upcoming litigation? We recover forensically sound data from tape media to satisfy litigation requests. Tapes contain a snapshot of data that was present on a system at a point in time.
This could include information that is no longer available in 'active' storage, especially if – in the anticipation of an investigation - efforts have been made by a suspect to manipulate or remove potentially incriminating evidence from the live system. However, this evidence can still be found via a forensic investigation of the tapes. We can recover forensically sound data quickly when urgent restore requests arise.
Other tape services
Our tape services consist of four straight-forward steps that make managing your archived tape an easy job.
Start your data recovery now with a free consultation.
Contact our team of experts. Ontrack accommodates everyone – from the largest government or enterprise organization to an individual who may have lost their digital photos and everyone in between.
icon
Articles about tape and tape recovery
Thursday, September 12, 2019 by Tom McCaffrey
Correctly managing your data archive is essential to ensure you are compliant. Read these top tips to ensure your tape archive is future proof.
---
Thursday, May 16, 2019 by Tilly Holland
The tape is still considered one of the best storage solution for long-term archiving. In this blog, we answer some of the most popular tape related questions.
---
Tuesday, May 29, 2018 by Michael Nuncic
Hardly any other storage medium is talked about so passionately. No, it is not the Cloud, but about the dinosaur of storage technology, the magnetic tape. Sometimes it is said that this medium and its technology are close to extinction, sometimes it is said that it will be in use for more decades to come.
---
Tuesday, November 27, 2018 by Michael Nuncic
The tape has been used as both a means for backing up data and archiving data over the years. In this blog, we explore which it is actually better at.
---
Thursday, December 14, 2017 by rstantonhorne
Contrary to popular opinion, magnetic tapes are not dead and still have a role in modern IT. Many businesses that do not use an archiving solution store their backup data on tapes. Businesses choose this option because it's cost effective. The tapes are then kept onsite at a company facility or at an external tape storage provider.
---
Thursday, February 9, 2017 by Michael Nuncic
Tape, as an archive and data storage medium, has been around for over 60 years now and is still widely common companies of all sizes. Tape has its advantages - durability and low cost compared to other media - but that can also be its drawback. Over the years companies tend to change tape formats, as well as tape backup solutions.
---
Tuesday, August 23, 2016 by Milagros Gamero
Change is rarely comfortable, but as Winston Churchill said, "To improve is to change; to be perfect is to change often." In business, there can be many reasons for organizations to modify or even revolutionize the way that they operate, some through choice, and some that are imposed upon them. From a data center point of view, this often involves the transfer of information from one medium to another, and regularly encompasses the need to recover data from backup tapes and tape libraries.
---
Friday, April 8, 2016 by The Data Experts
---
Thursday, October 22, 2015 by Stuart Burrows
It can be tempting to think of your tape archives as out of sight, out of mind. Here's why reviewing them from time to time isn't necessarily a bad idea.
---