A partner program for computer retailers, consultants and IT service companies.
Get exclusive benefits, discounts and specialist tools to increase your revenue, customer loyalty and satisfaction.
Exclusive Benefits
Our Authorized Partner Program allows you to offer the highest-quality data recovery services and solutions to increase your customer's loyalty.
Authorized Partners have exclusive access to discounts, sales tools and marketing materials via our partner portal to quickly grow your data recovery business.
What can it offer you?
As an Authorized Partner you can benefit from:
Exclusive reseller discounts and referral fees for data recovery
Contact with our global team of expert engineers and R&D specialists to assist you with any data loss scenario

Discounts on software solutions and tape management projects
A suite of sales and marketing materials for both online and offline promotion

A dedicated Account Manager to support your business
Access to training and educational materials
Promotions and giveaways
It's completely free to join and there are no minimum quotas to fill.
Increase your revenues.
Open the door to other sales opportunities.
By offering data recovery services, our partners earn between $12,000 - $15,000 of extra revenue per year*. In addition, 62% of our partners create additional revenue opportunities from add on or complementary sales, such as:
Backup software
New storage solutions
Replacement hardware
Repair services
Consultancy services
Managed service contracts
Decommissioning projects
Join the Authorized Partner program today to start opening up more sales opportunities for your business.
*2016 global survey of 700 Ontrack Authorized Partners.
Sign up now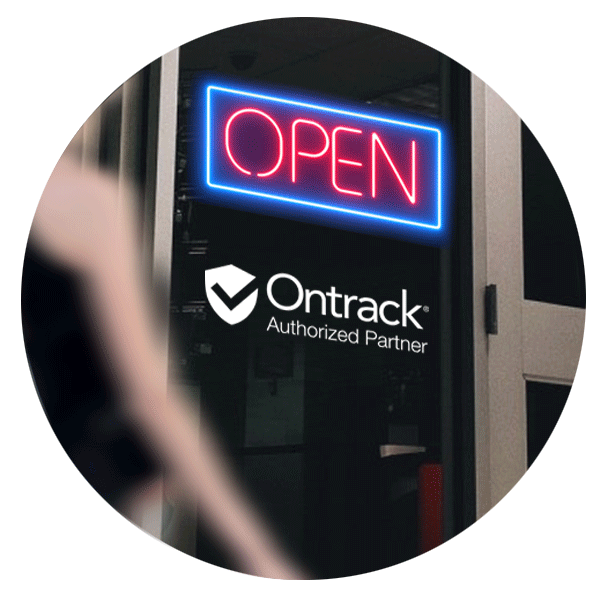 100K+
Partners in our global network
50K+
Data recoveries per year
569K
Data recoveries since 1985
Grow your portfolio.
Offer your customers these data solutions with no commitment or quotas to fill:
Data Recovery
Help your clients with any data loss situation, any device, anytime. Benefit from transparent pricing and a priority service.
Server Restoration
Use DIY software to quickly search and recover data from Microsoft® Office 365, Exchange, SharePoint and SQL Server.
Tape Management
Regain access to legacy data and manage archive tapes with an online catalog.
Data Deletion
Secure software and hardware solutions to protect confidential information once devices reach the end of their useable lifespan.
Ready to join?
With a network of over 100,000 partners worldwide, you can trust this program has been tried and tested to provide you with the best offering possible.
All fields marked with * are required. As part of the program we'll keep you informed with regular updates, promotions and industry news via email. If you don't want to receive these communications you can opt-out at any time via any of our emails.
By submitting this form you agree to the Ontrack terms & conditions.
Already a partner?
If you've already registered, check out the Authorized Partner Resource Center to access your marketing resources, sales tools and manage new/existing data recovery requests.
Visit the Authorized Partner Resource Center