What should I look out for when choosing a data recovery company?
Friday, July 12, 2019 by Michael Nuncic
If you end up in a situation where you find yourself in need of data recovery, the company you choose to do the job needs to be trustworthy and reliable. In most cases, you only get one chance at recovering data. Therefore, putting your media in the hands of a company that is less than average can result in you losing your data for good.
Below is best practice advice you should consider when deciding upon a data recovery company:
Don't be tricked by apparent client names
A few of the data recovery companies claim to have worked with numerous high profile companies. For some of the companies, this may be true. But think of it this way – do you really think an FTSE100 company wants people to know it lost huge amounts of its data? Probably not! Most high-profile companies do not want their data loss situations aired to the public. Therefore, take any company names you see on a data recovery company's website with a pinch of salt!
Do your research
When you are narrowing down your search, ensure you check review sites and forums. Both of these platforms will allow you to read about other customers' experience with the data recovery company you are considering first-hand. You do have to remember that it is impossible to please everyone, so some of the best data recovery companies have a bad review or two. Nevertheless, if the majority are positive then you know you will probably be in safe hands!
You get what you pay for!
As explained at the beginning of this blog – most of the time you only get one chance to recover data. Therefore, expertise, reviews, recommendations, no data no fee guarantees and free benefits like courier collection should come before price. Some data recovery companies like to tempt potential customers with low price quotes, but once they have the media in their hands will demand more money for the job and hold it hostage until that money is paid.
Some other companies that charge very low fees do so because they do not have the technical experience. Sending your media to a company like this can result in further damaged media and the chance of the recovery reducing dramatically.
Key questions to ask
Below are some key questions that are useful to consider when choosing a data recovery company.
How long has the provider you are considering been in the data recovery business?
How much data has the provider successfully recovered?
Does the provider have case study references?
Can the provider retrieve client data from bespoke storage systems?
Do they operate within a secure, clean room environment?
Does the provider have a secure, online portal that enables customers to access recoverable files and track the status and progress of data recoveries?
Top tips
An experienced data recovery company will not charge you in advance.
Many will give you a free or low price evaluation of the data recovery job informing you of how many files are recoverable.
The more complex the job is the more money it will cost due to the time needed to be spent on the recovery.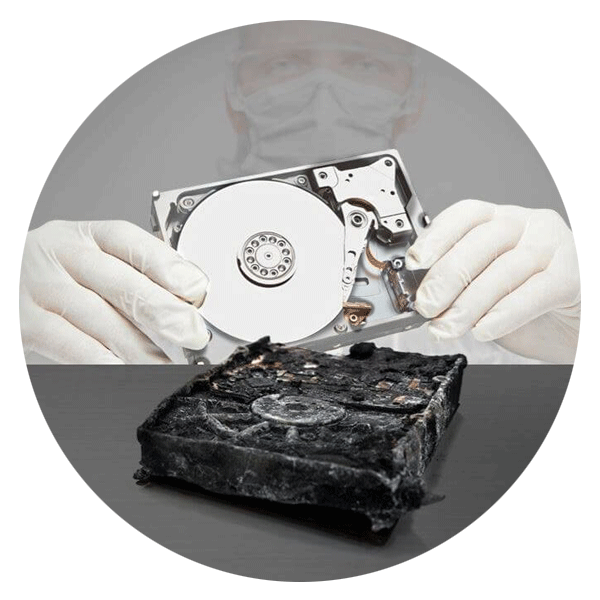 Call for Immediate Assistance!
---