LOST DATA?
CALL US NOW
Clicking, Dropped, or Non-recognized Hard Drive?
Water or Fire Damaged Device?
Data Loss Due to Logical Issues?
Ontrack can help organizations recover lost data from any make or model of hard drive.
We Are Experts in Data Recovery From Hard Drives (HDDs)
We can recover data from any make or model of hard drive. If your drive is inside a laptop, desktop or RAID, we'll let you know if it can be removed first or if you need to send us the whole system to us.
Examples of media and hard drives we recover data from every day:
Support Types
| | | |
| --- | --- | --- |
| PATA (IDE, EIDE) | SATA | SCSI |
| SAS | Fibre Channel | USB |
| Firewire | eSATA | |
Mechanical Issues
How to identify physical damage to a hard drive?
There are warning signs that can help you identify physical damage, these may include:
Computer failing to start up or not operating correctly.
A strange, clicking or grinding noise when the drive is being accessed. A common pattern is click-pause-click-pause-click, followed by the drive stopping and the sound of it spinning again.
The hard drive is not powering.

What to do next?
If you suspect your media has suffered physical damage, turn it off immediately to avoid further damage to the platters which could result in irreversible data loss.
Our advice is to never open the drives (or indeed any media) prior to sending it to us. Unfortunately, with physical data losses there is no option for a DIY – a sterile environment and professional help are necessary to try to get your data safely back to you.
855.558.3856
Get a free evaluation
Water Damaged Device:
Here is our first aid manual for water damaged media:

Water damaged devices should not be connected to power under any circumstances. Plugging in a water damaged device can cause significant additional electronic failures and may make a drive complete unrecoverable.
Do not use DIY recovery software. Recovery software should only be used on fully-functional media.
Do not attempt to dry or clean the media, or put it in rice. With water damaged device corrosion is the biggest risk and drying out devices in rice or similar can speed up this process.
Pat the device dry with a clean towel but don't worry about slight moisture. Wrap the device in cling wrap or place it inside a zip lock bag before sending it in.
Time is critical for water damaged devices. Contact us as soon as possible for the best chance of recovering the data.
Fire Damaged Media:
Safety First
Take care in handling any object which has been involved in a fire. Either wear protective gloves or use a dry cloth or towel to handle the device.
Avoid Further Contamination
Do not try to open or clean the storage medium. Opening the device would likely further expose the internals to external contaminants. Burnt devices are often covered in soot. Using water or a cleaning product on the outside of damaged device may cause further damage to the electronics.
Packaging
Burnt devices are often very dirty and sometimes wet from firefighting efforts. Without cleaning, place the device 'as is' into a sealable bag (preferred) - or simply wrap tightly with what is available, and place into a shipping box with adequate padding.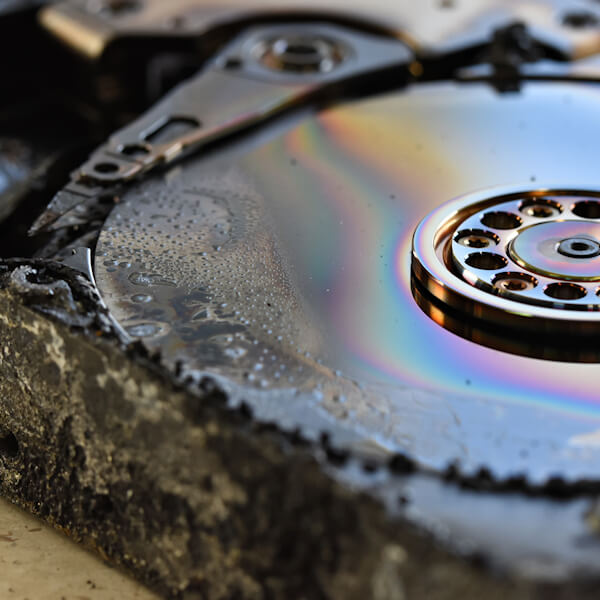 24/7 Support
World's experts always ready to help.
Recovery Time from 4 Hours
Levels adjusted to your needs.
90% Recovery Efficiency
Over 500,000 successful data recoveries.
We use the independent rating service, Trustpilot, to collect and evaluate feedback. See what others are saying about Ontrack.