Smartphone Essentials: Back up the Data on your Smartphone (Pt. 1)
Thursday, December 28, 2017 by Philipp Lohberg
During this holiday season, many new smartphones will be given as gifts. To transfer the data from the "old" device to the new one, a backup of the data and a subsequent restore on the new device helps. Of course, a backup should not only be used to set up a newly received or purchased smartphone, but with personal and business data stored on these devices today, backups should be created often. Unfortunately, a backup is rarely made from our little all-purpose helpers. And unfortunately, creating a backup is not that easy if you have a smartphone with Android operating system.
iPhone Backup
For iPhone users, the task is fairly straightforward. You connect your iPhone to a Wi-Fi and Internet network and then tap on "iCloud" (You will find the iCloud in iOS 10.2 or older in the settings). Afterwards, tap on "iCloud backup" or "Backup", then select "Back Up Now."
Android Backup
Unfortunately, with Android smartphones, more effort is necessary. If you did not create your own Google Account during the setup process of your phone for the first time or you do not have a Gmail account, make one directly at Google. Now look in the settings on your smartphone (gear icon) the item "Backup & reset" and here you can save a lot of data including Wi-Fi passwords, contacts, calendar data and emails sent or received via Gmail. You activate "Back up my data" and "Automatic restore." Under "Backup account" you can see the account used for the backup - or you select the desired account from several entries. Back in Settings, open "Accounts" and select "Google." Click on your Google account and then click on the data to be backed up - in Android this process is called "synchronize."
To back up photos and videos, open the Google Photos app (preinstalled on all Android phones). At the top left you will find the three dashes that lead to the settings. Sign in to your Google Account. Then go back to the app's home screen, click on "Settings", then "Back up & sync" and "Back Up."
But what about backing up content from other programs?
As an example, here is how you create a backup of your WhatsApp communication. You can back up your WhatsApp chats in the app via the three dots in the top right > Settings> Chats> Chat backup. After saving, connect the smartphone via an USB cable to your PC. On your small smartphone screen, a selection menu appears at best, in which you select "Transfer data."
But since each manufacturer "cooks his own soup" and presents the Android operating system its own "wallpaper," it may be that you have to select the possibility of data transfer in a separate menu. Find out where to find this function in the manual of your smartphone or on the website of its manufacturer.
If the file structure of the smartphone is displayed on your PC, copy the "WhatsApp" folder to your hard disk. To copy your WhatsApp correspondence to a new smartphone, you must install the app there (without opening it!). Then copy the contents of the backed up WhatsApp folder to the WhatsApp folder on your new device and start the app. Et Viola!
Here's another tip: After a smartphone crash, typically the touchscreen is broken and can no longer be operated with a finger. As a remedy, you can connect a normal optical mouse to the phone, as long as the device is capable of USB-OTG (On-the-Go), which should be the case from Android 3.1 and up. With the help of a cable "Micro-USB plug to USB socket" or "Mini-USB plug to USB socket," depending on the type of connection with your smartphone, you can do almost all the actions you previously were able to with the mouse. That the mouse pointer is possibly really tiny, is not much of a problem – at least you have control over your smartphone again.
In the second part of our article series on smartphone backups, we'll discuss the special backup programs that can make your life easier when dealing with mobile phones and tablets.
If you've experienced data loss on your smartphone, click here for more information about Ontrack's expert data recovery service.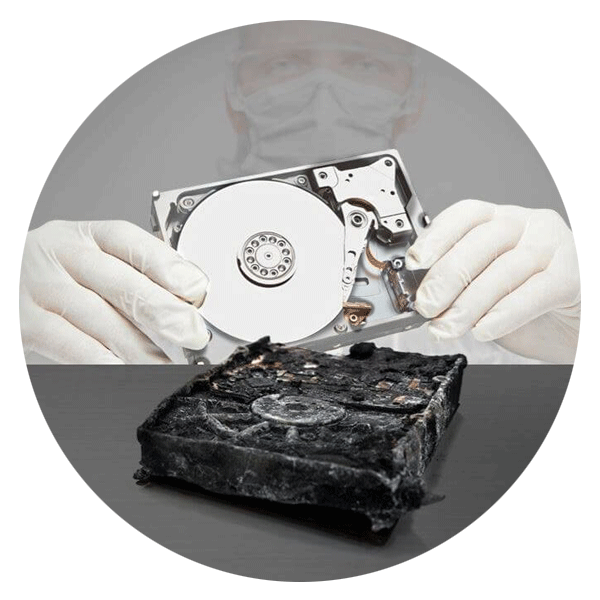 Call for Immediate Assistance!
---