Magnetic Tape - Data recovery in practice
Wednesday, April 20, 2016 by Jennifer Duits
Digital magnetic tapes are still widely in use for storing data. Many companies have used them successfully for decades and look to tape as a solution for the ever growing (Big) Data. The advantages are clear: Compared to hard drives and flash based (SSD) storage magnetic tapes are relatively low cost per gigabyte, have best durability and lifespan of all the memory (up to more than 30 years when properly stored), and low energy costs. It is no wonder that companies continue to use tapes for their storage demands.
The use for tapes in data storage has evolved in recent years: While some tape solutions can achieve almost as fast of access times as disk-based storage systems, most need a longer duration to access data from one or several tapes. The issue of access times has moved tapes from being used as a standard backup media to long term archiving. Nowadays, tapes are mainly found in use for archiving or they are old – very old – legacy tapes stored in company archives and little is known about what once was stored on them 10, 20 or 30 years ago.
At this point, specialized tape data saviors, like me, come into play. I have worked at Kroll Ontrack in Böblingen for almost 20 years specializing in data recovery from tapes. It is my job to recover data, both mechanically as well as logically, from "outdated" tapes, tape systems and/or tape-based backup solutions. If you consider that the magnetic tape has been around for almost 50 years, one can imagine how many technological advances this medium has endured. There are over 20 different magnetic tape formats that have been introduced since the early days, multiplied by the various manufacturers of tape drives, whose products are or were not always compatible with the media of other producers. Finally, factor in the number of different backup software and archive solutions introduced, and there lies the complexity in my job.
The reasons data recovery for tape is needed are quite different: Sometimes data from stored tapes needs to be recovered due to a company merger in order to provide an overview of all projects and documents available, sometimes data from a past event must be provided to investigators for litigation purposes and sometimes a company wants to migrate all of their data into a new – readable – format because of a planned change to its archiving solution. No matter what the reason for the recovery – the data from tapes must be read, analyzed and saved.
How does a tape "savior" work?
As previously indicated, we offer a great wealth of services for tape storage, we not only restore data, but we also extract data, create catalogs for the old or new systems, execute a duplication or de-duplication, transfer the data from tape onto a new tape format or into a new file format. For this reason, there is no "typical tape-project," but a multiple of variations. No matter what the desired end result is, we always start with a feasibility study. This feasibility study is an extensive test on the magnetic tapes, typically stored for a long period of time, where there are concerns of the readability to see if they are still functional.
Sometimes the issue with tapes can come from normal wear, or if the storage temperature was not optimal, which can lead to moisture and thus to oxidation on the coated magnetic tape carrier. The result is that the strips are stuck together and must be detached from each other carefully. Dirt and dust can also wreak havoc when they reach the coated stripes and have adhered to it.
The first step after the tapes have reached our laboratory is to determine what condition they are in. After extensive cleaning (and sometimes repair) we can then attempt to read the tapes on the original hardware, once cleaned. We have over 500 different tape drives from all major manufacturers available in the German tape laboratory alone. More equipment is available in our other locations across the globe, which we can access when it is needed. As a result we have a lot more opportunities than other tape data recovery companies as we are able to read between 90 and 100 percent of the tapes out there, while our "competition" has to give up at the first read error.
As with the data recovery of a hard drive or SSD / flash memory, we read and copy the data on tape then store it on our Ontrack servers. In doing this, we can use our tools to work on the data without having the original backup solution (such as Archserve, CommVault or Netbackup) installed. Once the data is copied to our servers, the recovery begins. Sometimes it is easy and quick and other times it is flat out difficult and time-consuming.
One example was a case where a company had 65 tapes in the LTO 3 and LTO 4 format which they wanted to have all the email content extracted and searchable in order to conduct an internal investigation. In this case, we needed to complete the tape recovery onsite at the company, as the customer needed the data to remain on-premise. Another case was that of an IT service, which needed to make an extensive archive of 3592 /JA magnetic tapes accessible for a well-known hardware manufacturer for the next five years. The data on the tapes had been saved previously under the Tivoli Storage Manager which we were able to use to read the tapes. We then indexed and cataloged the data, so that the customer was able to waive its Tivoli system completely and utilize our Restore-On-Demand service for compliance reasons.
I'm actually always interested to see what new challenge awaits me; because there are always new tape treasures found in our customer's the cellar waiting to be restored by us.
Armagan Cekmez, Tape Data Recovery Engineer Kroll Ontrack Böblingen, Germany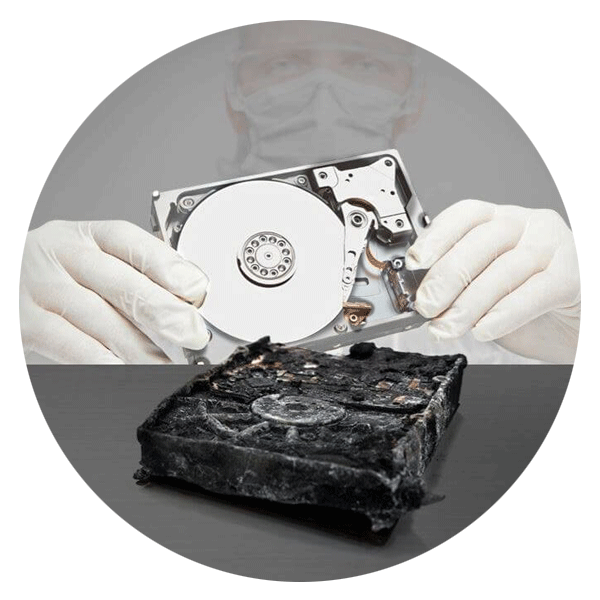 Call for Immediate Assistance!
---