Beyond "Just" Data Recovery: Tape Restoration Services
Thursday, December 31, 2009 by The Data Experts
What happens when you need to access files from an old backup tape that is no longer compatible with your back up system, tape drive or back up software?
The rapidly changing world of IT means that new innovations are constantly replacing the latest technology. With changes to back up regimes, old tapes become redundant despite requests for old files to be restored. Furthermore, data compliance regulations require businesses to retain data for many years, often longer than the availability of the technology used to store it.
In most cases, the data format from the "old" system is not compatible with the "new", making the transfer of data a major challenge. With 20 years experience in data restoration, Ontrack has worked with practically every type of storage format, media and data loss scenario. This gives us a unique insight and the ability to facilitate the conversion of data between various platforms, file formats, tape formats, etc.
Tape Conversion & Tape Migration
Ontrack's tape conversion service can transfer data files from an unrivalled array of backup formats, even those that have been obsolete for many years. Moreover, Ontrack's data conversion utilities are used throughout the industry to reformat data from mainframe systems to allow for the importation into PC and UNIX database and spreadsheet applications. Ontrack has developed a wide range of tools and bespoke software to process data so that it can be transferred to newer systems in a quick and accurate manner.
Tape Duplication
Ontrack has developed software and systems that allow for the off-line duplication of your vital backups or for the creation of multiple copies of data for distribution. With most backup applications your only choice is to repeat the backup to create a second copy of your save sets. This can cause problems as system performance will be affected and often the extra copy has to be made during business hours when the most important files are in use. Ontrack can copy your tapes independently from your live systems and validate them with a restore process. We can also supply a system solution for your duplication requirement.
Tape Recovery
Ontrack, through its Ontrack data recovery services, can quickly and successfully recover lost data from tapes, no matter how extreme the cause. Trying tape recovery on your own or through an inexperienced provider may lead to further damage. Select a data recovery provider with resources, expertise and experience you can trust.
Causes of Tape Failure and Data Loss
Corruption – operational error, mishandling of the tape or accidental overwrites caused by inserting or partially formatting the wrong tape.
Physical damage – broken tapes, dirty drives, expired tapes and damage caused by fire, flood or other natural disaster
Software upgrades – inability for data on tape to be read by new application or servers
Tape Recovery Process
Tape recoveries are performed in dust-free cleanroom environments
Tapes and tape drives are carefully dismounted, examined and processed
Proprietary tools can "force" the drive to read around the bad area to recover your data successfully
Drives are imaged and a copy of the disk is created and transferred to new system
LTO Tapes
The LTO tape has emerged as one of the major players at the high data capacity and high performance end of the market. Ontrack has extensive experience with the recovery of data from LTO tapes. The majority of the problems that we see are the result of human error such as accidentally re-initialising a tape, or forgetting to enable the append option before starting a backup.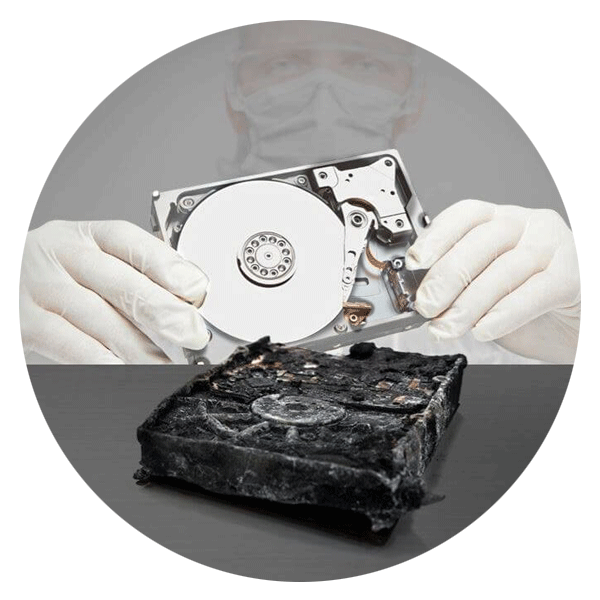 Call for Immediate Assistance!
---